Sales System
Providing satisfaction to our customers with a prompt response
Our sales staff has an abundance of knowledge and skills, and is committed to satisfying our customers' needs.
KEL emphasizes communication with our customers, and we endeavor to promptly respond to our customers within the time frame they require.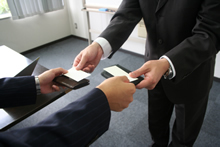 The KEL sales team delivers solutions in order to promptly meet our customers' needs.
In the development of electronic devices, it is important whether you are able to provide connectors that are compatible with the development policy, in a timely manner. KEL fosters salespeople knowledgeable about connection technology and trends in the electronics industry. Aiming for organic collaboration with development and production staff, we have put in place a sales system that is able to respond promptly to customers' needs. From the details of the specifications to the development and delivery schedules, feel free to consult with us about any matter. We will respond flexibly and with all our powers in order to generate customer satisfaction.
To North America, to Asia. KEL is actively promoting a global strategy.
As globalization proceeds, KEL's superior connection technology and the products that it supports are also gaining acclaim overseas. Currently, the Company has corporate entities in Taiwan, Shanghai, Hong kong, Germany and North American, and a Chinese domestic commissioned production system, and we are already responding to global orders. Also, as China transforms into an up-and-coming market, we are in the process of establishing a local office to respond to the requests of Japanese manufacturers making forays into that country. In order to fulfill our customers' diverse needs, the Company is actively focusing on expanding operations overseas as well.