Research and Development
We provide support with our high level of technical abilities and an adaptable response capability.
Seeking a more exceptional performance with greater precision
KEL's research and development continues to create new connection technology.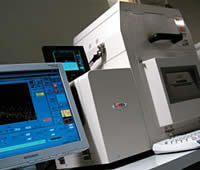 KEL pursues miniaturization and ever-higher performance to the utmost limits.
It is our business to conduct R&D that anticipates customers' needs.
KEL has spent many years engaging in development and production of connectors and peripheral products for industrial and electronic equipment. The rich experience and the design and production know-how that we have gained as a result are our most valuable assets. Miniature, high-performance, advanced electronic devices require connectors with high connection reliability attributes and high density. In order to provide the leading-edge connectors sought by the electronics industry as soon as possible, we are investing management resources in R&D and pursuing miniaturization and ever-higher levels of performance.

KEL products-like our fine pitch floating connectors that have a significant amount of floating, our high-performance connectors for miniature coaxial cable that can pass through fine parts, our half-pitch connectors that have become the standard for industrial equipment, and our 0.635 mm pitch connectors, the next generation industry standard-pursue miniaturization, reliability, and high performance to increase added value from the customer perspective. We consistently earn high praise from a wide range of electronics manufacturers.
Close collaboration with our customers
We are committed to the rapid development of products that exceed your needs.
In close liaison with our customers, we deliver specifications that go beyond simply meeting the basic needs by expanding on technological proposals in a proactive way. In customized products as well, we actively incorporate connecting and mounting technologies of the quality that the world has come to expect of KEL. Delivering specifications that satisfy the customer with optimal timing is another of KEL's unique strengths.