Release of new FTC Series
5.08-mm-pitch drawer connector, capable of crimping two cables
The "FTC series" consists of drawer connectors with 5.08 mm pitch.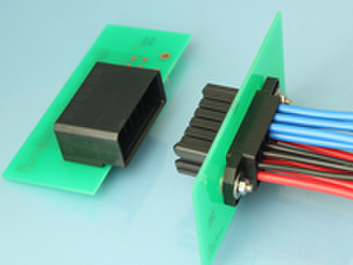 "Drawer" means a drawer, like a desk drawer. Drawer connectors are used for the connection between units of box-shaped machines, such as the connecting parts of copying machines, multifunctional printers, and gaming equipment, and the connection between the main body and the panel attached to the equipment, which are opened and closed. Because there are many connections in the parts where the actual joints remain not visible, a proper guide mechanism, effective mating length, and floating mechanism are required.

KEL has been supplying many crimp connectors to the market so far. They include the


2.5mm pitch "FA Series" (drawer type),
2.0mm pitch "FBC Series",
1.5mm pitch "FAS Series" (drawer type),
1.27mm pitch "8929E Series".

The greatest feature of the new "FTC Series" is that it can crimp two cables to a single terminal (contact). * Terminals for crimping a single cable can also be selected.


Crimping two cables to a single terminal reduces the number of pins of the connector and significantly contributes to size reduction. Furthermore, because it facilitates power transfer between connectors, the part that transfers the power through a board can be converted to a much simpler boardless structure. In addition, a branch terminal block can be converted to a structure without a terminal block.


The "FTC Series" has inherited the highly established and user-friendly characteristics of the drawer-type crimp connectors, the "FA Series" and "FAS Series", already in the market, and are equipped with the guide mechanism that enables smooth mating, the guiding function to absorb misalignment, and the highly reliable pinching two-point contact structure, among others.

The product to be released is 12 pins and the plug side to be right-angle type. In the future, 20 pins, lock-type, board side straight type, relay-type products, and multi pin count (six, eight, and ten under consideration), will be successively released. In this way, the series will be expanded such that they meet the broad needs of customers.

<Main features of FTC Series>
- 5.08-mm-pitch cable crimp connector.
- Three types of terminals available depending on cables. (Applicable cable: AWG14 ~ AWG20) Single cable and two cables can be crimped.
- Single-cable crimp terminal and two-cable crimp terminal can be attached to any part of the housing.
- By crimping two cables, space is saved by reducing the number of pins.
- By crimping two cables, power transfer between connectors is easily realized.
- Smooth guiding with a sufficient margin angle with the guiding mechanism.
- Guiding function to absorb mating error of ±3 mm in the X and Y directions.
- Mobilization of the screwed part allows the movement of ±0.7 mm at maximum in the X and Y directions after mating
- Highly reliable design with effective mating length of 3 mm.
- The contact is dust resistant due to the pinching two-point contact structure.
- 12 pins (6 pins, 8 pins, 10 pins, and 20 pins under planning.)

<Main specifications of FTC Series>
- Insulator material: PBT
- Contact material: Copper alloy
- Contact / Retention clip plating:
[FTC01] Nickel,
(Contact area) Gold over Nickel, (Terminal Area)Tin copper over Nickel
[FTC11] Gold over Nickel
- Current rating: [AWG#14/16] 8.5 A per terminal
[AWG#18] 7.5 A per terminal
[AWG#20] 7.0 A per terminal
- Contact resistance: 10 mΩ or less
- Dielectric withstand voltage: AC 2,200 V, 1 minute
- Insulation resistance: DC 500 V, 1,000 MΩ or more
- Insertion and withdrawl durability: 500 times
- Operating temperature: -55°C to +105°C
- Tensile strength of crimped terminal: [AWG#14/16] 190 N or more, [AWG#18] 120 N or more, [AWG#20] 75 N or more
- Applicable cables: AWG#14/16/18/20

* More information for FTC Series from this page.