8822E/8822 Series
Flat Cable Type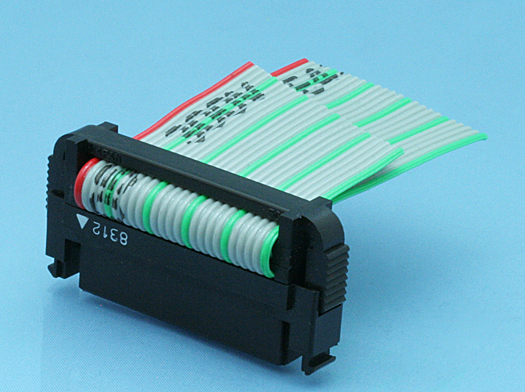 The half-pitch connectors of the 8822E Series are used for board-to-cable connections.
Specifically, they facilitate connection of a pair of flat cables of 1.27mm pitch.
In addition, a pair of MIL-compliant connectors can also be connected - one of half pitch; the other, of 2.54mm pitch.
The main feature of the 8822E Series is the Eject Lock - a unique locking mechanism developed by KEL. The 8822 Series employs a one-touch lock mechanism.
Typically, MIL-compliant flat-cable connectors have featured a lock on the board side and required the use of both hands for unlock and removal.
With this series, however, the locking mechanism is provided on the cable side, allowing one-handed release and thus improving the efficiency of assembly operations.
Features & Specifications
Features

・With a completely-independent two-point contact system, a stable contact pressure is maintained at all times.

・Low insertion and withdrawal force.

・Can be used with MIL-STD type IDC connectors(KEL 6100, 6200, 6200S, 6230 Series for example).

・Connectors with the Eject-Lock mechanism, allowing one-handed insertion and release, and the One Touch Lock mechanism for easy handling are available.

・Wide variations in the number of contacts (13 sizes from 20 to 100 pins) are offered.

Specifications

Insulator material
Glass-filled 66 Nylon (UL 94V-0), Black
Contact material
Copper alloy
Contact plating
(Contact area) Gold over Nickel
(Terminal area) Tin copper over Nickel
Retention clip material
Copper alloy
Retention clip plating
Tin copper over Nickel
Current rating
0.5A per contact
Contact resistance
30mΩ max.
Dielectric withstanding voltage
650V AC for 1 minute
Insulation resistance
1,000MΩ min. at 500V DC
Operating temperature
-55℃ to +85℃
Recommended cable
#28 AWG(7/0.127),1.27mm(50mil)pitch, Flat ribbon cable
Products List
| Part Number | Description |
| --- | --- |
| 8822-020-171-F | 1.27mm Pitch, 2 piece, IDC for 1.27mm FC Connector, Receptacle (Cable side Connector), 20 pin |
| 8822-020-171D-F | 1.27mm Pitch, 2 piece, IDC for 1.27mm FC Connector, Receptacle (Cable side Connector), 0.25μm min. Gold plating, 20 pin |
| 8822-026-171-F | 1.27mm Pitch, 2 piece, IDC for 1.27mm FC Connector, Receptacle (Cable side Connector), 26 pin |
| 8822-026-171D-F | 1.27mm Pitch, 2 piece, IDC for 1.27mm FC Connector, Receptacle (Cable side Connector), 0.25μm min. Gold plating, 26 pin |
| 8822-030-171-F | 1.27mm Pitch, 2 piece, IDC for 1.27mm FC Connector, Receptacle (Cable side Connector), 30 pin |
| 8822-030-171D-F | 1.27mm Pitch, 2 piece, IDC for 1.27mm FC Connector, Receptacle (Cable side Connector), 0.25μm min. Gold plating, 30 pin |
| 8822-032-171-F | 1.27mm Pitch, 2 piece, IDC for 1.27mm FC Connector, Receptacle (Cable side Connector), 32 pin |
| 8822-032-171D-F | 1.27mm Pitch, 2 piece, IDC for 1.27mm FC Connector, Receptacle (Cable side Connector), 0.25μm min. Gold plating, 32 pin |
| 8822-034-171-F | 1.27mm Pitch, 2 piece, IDC for 1.27mm FC Connector, Receptacle (Cable side Connector), 34 pin |
| 8822-034-171D-F | 1.27mm Pitch, 2 piece, IDC for 1.27mm FC Connector, Receptacle (Cable side Connector), 0.25μm min. Gold plating, 34 pin |