8925E Series
Flat Cable Type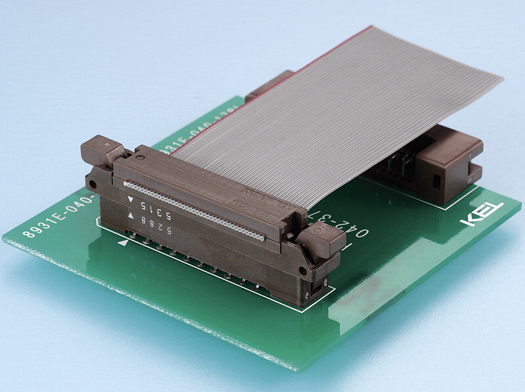 The 8925(E) Series provides half-pitch, board-to-cable connectors characterized by a low profile.
Designed for a single flat cable of 0.635mm pitch, these connectors can be used in the assembly of daisy-chain configurations.
The 0.635mm pitch, flat cable is assembly using a double blade-spring, sandwich mechanism that facilitates simple yet reliable connection.
Inheriting the special characteristics of the 8825E Series and making use of KEL`s new, unique Eject Lock mechanism for simple, one-handed insertion and removal, this series contributes to even higher efficiency in assembly operations.
What`s more, the mounting of this type of board-to-cable connector on the board side also facilitates board-to-board connections, and thus ensures that combination-type connections can also be realized.
Features & Specifications
Features

・Highly reliable contact design with independent and synchronized spring.

・Low insertion and withdrawal force.

・Insulator protects contacts from damage.

・Mating height is only 11.8mm(0.465")(8925R).

・Ability to make "daisy chain"cable assemblies.

・Cable connector (Receptacle) is able to mate with 8913 series (8925 series: non ejector type).

・Connectors with the Eject-Lock mechanism, allowing one-handed insertion and release.(8925E and 8925R series).

・PCB side connector variations:Straight, Right angle and SMT.

Specifications

Insulator material
[8925E/8925R/8925]
Glass-filled Nylon 66 (UL 94V-0), Brown
[8930E/8931E]
Glass-filled PPS (UL 94V-0), Brown
Contact material
Copper alloy
Contact plating
Gold over Nickel
Retention clip material
Copper alloy
Retention clip plating
Tin copper over Nickel
Current rating
0.5A per contact
Contact resistance
40mΩ max.
Dielectric withstanding voltage
[8925□]300V AC for 1 minute
[893□E]650V AC for 1 minute
Insulation resistance
[8925□]1,000MΩ min. at 250V DC
[893□E]1,000MΩ min. at 500V DC
Operating Temperature
-55°C to +85°C
Recommended cable
#30 AWG (7/0.102), 0.635mm (25mil) pitch, Flat ribbon cable
Products List
| Part Number | Description |
| --- | --- |
| 8925-040-179-F | 1.27mm Pitch, 2 piece, IDC for 0.635mm FC Connector, Low profile type, Receptacle (Cable side Connector), With strain relief, 40 pin |
| 8925-050-179-F | 1.27mm Pitch, 2 piece, IDC for 0.635mm FC Connector, Low profile type, Receptacle (Cable side Connector), With strain relief, 50 pin |
| 8925-068-179-F | 1.27mm Pitch, 2 piece, IDC for 0.635mm FC Connector, Low profile type, Receptacle (Cable side Connector), With strain relief, 68 pin |
| 8925-080-179-F | 1.27mm Pitch, 2 piece, IDC for 0.635mm FC Connector, Low profile type, Receptacle (Cable side Connector), With strain relief, 80 pin |
| 8925-100-179-F | 1.27mm Pitch, 2 piece, IDC for 0.635mm FC Connector, Low profile type, Receptacle (Cable side Connector), With strain relief, 100 pin |
| 8925E-020-179-F | 1.27mm Pitch, 2 piece, IDC for 0.635mm FC Connector, Low profile type, Receptacle (Cable side Connector), Ejector type, With strain relief, 20 pin |
| 8925E-030-179-F | 1.27mm Pitch, 2 piece, IDC for 0.635mm FC Connector, Low profile type, Receptacle (Cable side Connector), Ejector type, With strain relief, 30 pin |
| 8925E-040-179-F | 1.27mm Pitch, 2 piece, IDC for 0.635mm FC Connector, Low profile type, Receptacle (Cable side Connector), Ejector type, With strain relief, 40 pin |
| 8925E-050-179-F | 1.27mm Pitch, 2 piece, IDC for 0.635mm FC Connector, Low profile type, Receptacle (Cable side Connector), Ejector type, With strain relief, 50 pin |
| 8925E-060-179-F | 1.27mm Pitch, 2 piece, IDC for 0.635mm FC Connector, Low profile type, Receptacle (Cable side Connector), Ejector type, With strain relief, 60 pin |