8929E Series
Crimp Cable Type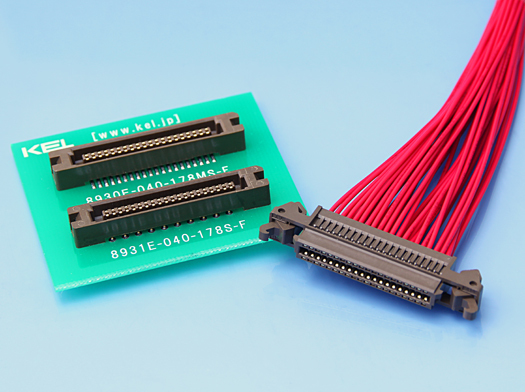 The 8929E Series provides 1.27mm pitch crimp-type connectors for discrete wire cables. KEL's original E-Lock mechanism, allowing one-handed insertion and withdrawal, is adopted on the cable side to provide high workability and operability. With independent and synchronized spring given to the terminals on both plug and receptacle sides, this series has achieved highly reliable contact design .
These connectors have improved workability and usability to meet workers' requirements, for example, by adopting crimping connection for connection with cables which allows workers to use a general crimping tool for cable connection.
For the cables, discrete wire cables are adopted, which are more affordable than flat cables and can have a high current capacity. The cables can be chosen from AWG#26/28/30, which responds to wide range of needs.
For the PCB-side connector, 8930E/8931E which is same as that of the 8925E Series is adopted. Unification of the PCB-side connector allows customers to freely design the layout.
Features
・Highly reliable contact design with independent and synchronized spring.

・Low insertion and withdrawal force.

・Insulator protects contacts from damage.

・Connectors with the Eject-Lock mechanism, allowing one-handed insertion and release.

・PCB side connector (Plug) is able to mate with Board to Board connector(8901/8903).

・For discrete cable. (#26 AWG, #28 AWG and #30 AWG)

 ※SMTタイプはエンボス梱包による対応も可能です。ご要求の際は当社担当営業までご相談下さい。
Specifications
Material and plating
Insulator material
[8929E]
Glass-filled Nylon 66 (UL 94V-0), Brown
[8930E/8931E]
Glass-filled PPS (UL 94V-0), Brown
Contact material
Copper alloy
Contact plating
[8929E] (Contact area) Gold over Nickel (Crimping area) Tin over Nickel [893□E] Gold over Nickel
Lock material
Glass-filled Nylon 66 (UL 94V-0), Brown
Retention clip material
Copper alloy
Retention clip plating
Tin copper over Nickel

Electrical Characteristics
Contact resistance
50mΩ max.
Current rating
1A per contact
Insulation resistance
[8929E] 300V AC for 1 minute [893□E] 650V AC for 1 minute
Insulation resistance
[8929E] 1000MΩ min. at 250V DC
[893□E] 1000MΩ min. at 500V DC
Recommended cable
#26/28/30 AWG Discrete wire cable
(insulation Dia. : φ1mm(0.039") max.)
Operating Temperature
-40℃~+85℃
Products List
| Part Number | Description |
| --- | --- |
| #569 | 1.27mm pitch connector for discrete wire cable. Contact terminal for 8929E receptclecable(cable side connector). Mating cable for AWG#26, AWG#28, AWG#30 |
| 8929E-030 | 1.27mm pitch connector for discrete wire cable. Crimping termination for cable assembly. (#26 AWG / #28 AWG / #30 AWG), Receptacle(Cable side connector), Ejector type, 30 pin |
| 8929E-040 | 1.27mm pitch connector for discrete wire cable. Crimping termination for cable assembly. (#26 AWG / #28 AWG / #30 AWG), Receptacle(Cable side connector), Ejector type, 40 pin |
| 8929E-050 | 1.27mm pitch connector for discrete wire cable. Crimping termination for cable assembly. (#26 AWG / #28 AWG / #30 AWG), Receptacle(Cable side connector), Ejector type, 50 pin |
| 8929E-060 | 1.27mm pitch connector for discrete wire cable. Crimping termination for cable assembly. (#26 AWG / #28 AWG / #30 AWG), Receptacle(Cable side connector), Ejector type, 60 pin |
| 8929E-068 | 1.27mm pitch connector for discrete wire cable. Crimping termination for cable assembly. (#26 AWG / #28 AWG / #30 AWG), Receptacle(Cable side connector), Ejector type, 68 pin |