FA Series
Crimp Cable Type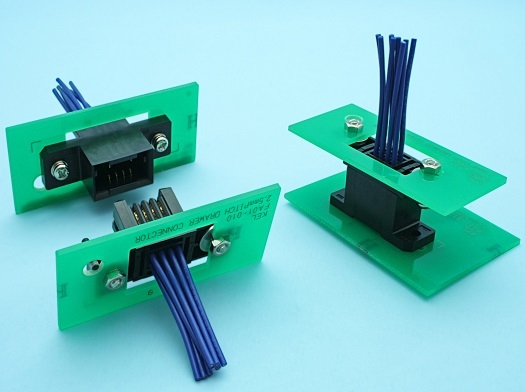 FA Series is 2.5mm pitch drawer connector, and it offers prevention of buckling of the contact pins, easy adjustment of the mating position, reduction of the stress when mating and highly reliable connection.

Its sufficient amount of floating (±1.4mm Max. to X and Y directions) reduces the stress occurs in mated condition.
Additionally it has a structure to absorb ±3mm gap in X and Y directions when mating.
In this structure, contact pins do not touch until both receptacle and plug become straight in order to prevent the buckling.

For the concept of contact mechanism, twin-leaf pinching 2 point contact structure which is well acknowledged for our battery connector GF series is adopted.
The current rating is 3A, and AWG22 to 26 cables are applicable. Both board to cable type and cable to cable type are available, and 4 to 40 pin counts are available for a wide range of usage. (Available pin count differs according to the connector type.)
Features
・Receptacle (FA:Cable side connector),Plug(FA11:PCB side connector) and Cable plug(FA12:Cable side connector for cable to cable) are available and can accommodate a wide range of usage.

・Absorbs ±3mm(0.118") gap in X and Y directions when mating.

・Floating structure of the screwed area enables ±1.4mm(0.055) displacement in X and Y directions in mated condition.

・Highly reliable design with effective contact displacement of 3mm(0.118").

・With a twin-leaf pinching 2 point contact structure adopted as a contact mechanism, improved reliability based on stable contact performance is ensured.

・Applicable to Hot swap is available.
Specifications
Material and plating
Insulator material
Glass-filled PBT (UL94V-0), Black
Contact material
Copper alloy
Contact plating
(Contact /Terminal area) Gold over Nickel
(Crimping area) Tin over Nickel
Washer / Rivet material
Stainless steel

Electrical Characteristics
Current rating
3A per contact
Dielectric withstanding voltage
650 AC for 1 minute
Contact resistance
30mΩ max.
Insulation resistance
1,000MΩ min. at 500V DC
Operating temperature
-40°C to +85°C
Durability of insertion and withdrawal
2,000 times
* A multi-insertion / extraction type is also available, so please contact us. When FA01 / FA12 is fitted: 7,000 times. When FA01 / FA11 is fitted: 5,000 times.
Recommended cable
Discrete wire cables AWG #22/24/26/28
(outer diameter of cable coating: φ0.88 to φ1.70 mm)
Products List
| Part Number | Description |
| --- | --- |
| #566 | 2.5mm pitch drawer connector. Contact terminal for FA01 receptacle. AWG#22, AWG#24, AWG#26 |
| #566-1 | 2.5mm pitch drawer connector. Contact terminal for FA01 receptacle. AWG#26, AWG#28 |
| #566D | 2.5mm pitch drawer connector. Contact terminal for FA01 receptacle. AWG#22, AWG#24, AWG#26, 0.25μm min. Gold plating |
| #566D-1 | 2.5mm pitch drawer connector. Contact terminal for FA01 receptacle. AWG#26, AWG#28, 0.25μm min. Gold plating |
| #570 | 2.5mm pitch drawer connector. Contact terminal for FA12 cable plug for cable to cable. AWG#22, AWG#24, AWG#26 |
| #570-1 | 2.5mm pitch drawer connector. Contact terminal for FA12 cable plug for cable to cable. AWG#26, AWG#28 |
| CH-01 | 2.5mm pitch drawer connector. Assembly tool, Mating Contact terminal for #566. Mating cable for AWG#22, AWG#24 |
| CH-02 | 2.5mm pitch drawer connector. Assembly tool, Mating Contact terminal for #566-1,#570-1. Mating cable for AWG#26, AWG#28 |
| CH-04 | 2.5mm pitch drawer connector. Assembly tool, Mating Contact terminal for #570. Mating cable for AWG#22, AWG#24 |
| FA01-004 | 2.5mm pitch drawer connector. Crimping termination for cable assembly. (#22 AWG / #24 AWG / #26 AWG / #28 AWG), Receptacle (Cable side connector), With posts, 4 pin |