USL Series
Micro Coaxial Cable Type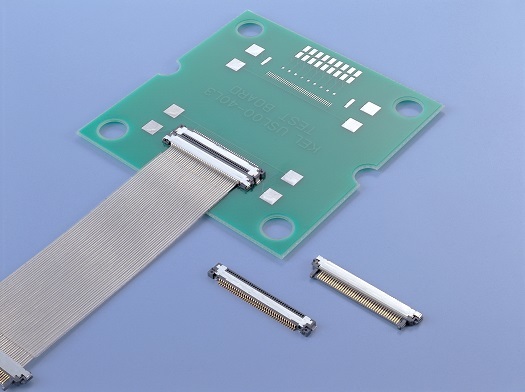 Our USL Series of I.D.C. connectors provides support for 0.4-mm pitch, ultra-fine coaxial cables (#42 AWG) and makes full use of KEL`s technical expertise in batch assembly for the purpose of cable connection.
During the development process, considerable effort was placed on the perfecting of a series of connectors that - particularly in terms of data-transmission - would minimize the degree to which the beneficial characteristics of the coaxial cable were affected.
encasing the board-side connector in a metallic shell, we achieved simultaneous improvements in noise resistance, component strength, and grounding performance.
The connectors of this series have a pitch of 0.4 mm and a low mounting height of 1.0 mm.
When compared with our current SSL Series of connectors for 0.5-mm pitch, ultra-fine coaxial cables, the USL Series achieves a major reduction of approximately 50% in terms of coupled volume, thus contributing greatly to weight reduction and device miniaturization.
This product features a right-angle type connector on the board side and a straight type on the cable side; furthermore, 30- and 40-contact variations are currently available.
Features
・Compact connector with a low profile of 1.0 mm(0.039'') and a mating width of 5.6 mm(0.220'').

・For micro coaxial cable(#42 AWG).

・IDC of contacts all together is adopted for improved connection reliability and more compact connectors.

・Equipped with a metal shell, noise reduction and product strength are ensured.

・Multiple ground terminals are provided for enhanced transmission characteristics and EMS protection.

・Highly reliable design with effective contact displacement of 0.5mm (0.020).+

 *Specially designed withdrawal jig is also available.
Specifications
Material and plating
Insulator material
Glass-filled LCP (UL94V-0), Black
Contact material
Copper alloy
Contact plating
Gold over Nickel
Shell material
Copper alloy
Shell plating
Tin copper over Nickel
IDC cover material
[USL20] Glass-filled LCP(UL94V-0),White

Electrical Characteristics
Current rating
0.25A per contact
Contact resistance
100mΩ max.
Dielectric withstanding voltage
200V AC for 1 minute
Insulation resistance
100MΩ min. at 250V DC
Operating Temperature
-40℃ to +85℃
Recommended cable
#42 AWG Micro coaxial cables
Products List
| Part Number | Description |
| --- | --- |
| USL00-20L-A | 0.4mm Pitch IDC Connector for micro coaxial cable (#42 AWG), Receptacle (PCB side Connector), Right angle, Number ofpackaging : 500pcs. per reel, 20 pin |
| USL00-20L-B | 0.4mm Pitch IDC Connector for micro coaxial cable (#42 AWG), Receptacle (PCB side Connector), Right angle, Number ofpackaging : 1000pcs. per reel, 20 pin |
| USL00-20L-C | 0.4mm Pitch IDC Connector for micro coaxial cable (#42 AWG), Receptacle (PCB side Connector), Right angle, Number ofpackaging : 3000pcs. per reel, 20 pin |
| USL00-30L-A | 0.4mm Pitch IDC Connector for micro coaxial cable (#42 AWG), Receptacle (PCB side Connector), Right angle, Number ofpackaging : 500pcs. per reel, 30 pin |
| USL00-30L-B | 0.4mm Pitch IDC Connector for micro coaxial cable (#42 AWG), Receptacle (PCB side Connector), Right angle, Number ofpackaging : 1000pcs. per reel, 30 pin |
| USL00-30L-C | 0.4mm Pitch IDC Connector for micro coaxial cable (#42 AWG), Receptacle (PCB side Connector), Right angle, Number ofpackaging : 3000pcs. per reel, 30 pin |
| USL00-40L-A | 0.4mm Pitch IDC Connector for micro coaxial cable (#42 AWG), Receptacle (PCB side Connector), Right angle, Number ofpackaging : 500pcs. per reel, 40 pin |
| USL00-40L-B | 0.4mm Pitch IDC Connector for micro coaxial cable (#42 AWG), Receptacle (PCB side Connector), Right angle, Number ofpackaging : 1000pcs. per reel, 40 pin |
| USL00-40L-C | 0.4mm Pitch IDC Connector for micro coaxial cable (#42 AWG), Receptacle (PCB side Connector), Right angle, Number ofpackaging : 3000pcs. per reel, 40 pin |
| USL20-20S | 0.4mm Pitch IDC Connector for micro coaxial cable (#42 AWG), Plug (Cable side Connector), Straight, 20 pin |