XSLS Series
Micro Coaxial Cable Type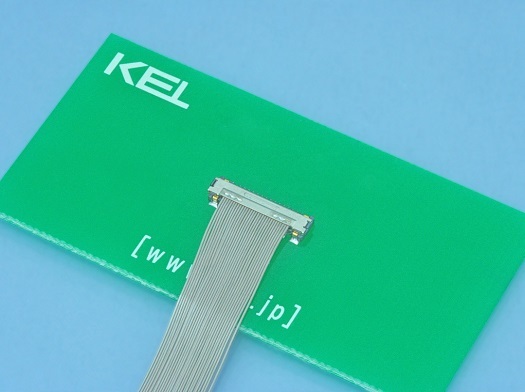 XSLS series have a pitch of 0.25mm, the smallest in the industry, and are designed for #42 AWG, #44 AWG and #46 AWG micro coaxial cables. (Stacking Type)
XSLS series with an effective coupled length of just 0.31mm, and a low-profile stacking height of
Features
・Compact connector with a low profile of 1.44 mm(0.057") and a mating width of 3.05 mm(0.120").

・For micro coaxial cable (#42 AWG, #44 AWG, #46 AWG).

・Signal terminals are soldered by Pulse Heat in one shot and keep a stable & highly reliable connection.

・Equipped with a metal shell, noise reduction and product strength are ensured.

・Multiple ground terminals are provided for enhanced transmission characteristics and EMS protection.

・Highly reliable design with effective contact displacement of 0.31mm(0.012").

・Nickel barrier of the board side contact prevents solder wicking.

・Passage of a cable through a narrow tube with a diameter of φ2.7mm (φ0.106") after soldering is possible.

・Due to that the bottom of the connector is covered with resin, circuit may be printed under the connector.

 *Specially designed withdrawal jig and caulking jig for a shell are also available.
Specifications
Material and plating
Insulator material
[XSLS00]Glass-filled LCP(UL94V-0), Black
[XSLS20]Inorganic Filler LCP(UL94V-0), Black
Contact material
Copper alloy
Contact plating
Gold over Nickel
Retention clip material
Copper alloy
Retention clip plating
Gold over Nickel
Shell material
Stainless
Shell plating
Gold over Nickel

Electrical Characteristics
Current rating
0.3A per contact
Contact resistance
100mΩ max.
Dielectric withstanding voltage
100V AC for 1 minute
Insulation resistance
50MΩ min. at 100V DC
Operating temperature
-40°C to +85°C
Insertion and withdrawal durability
30 times
Recommended cable
#42/44/46 Micro coaxial cables
(Outermost diameter: max. 0.235 mm(0.009"))
Products List
| Part Number | Description |
| --- | --- |
| XSLS00-30-A | 0.25mm Pitch Connector for Micro Coaxial Calbe (#42 AWG / #44 AWG / #46 AWG), Stacking type, Receptacle (PCB Side Connector), SMT , 30 pin, 500pcs. per reel |
| XSLS00-30-B | 0.25mm Pitch Connector for Micro Coaxial Calbe (#42 AWG / #44 AWG / #46 AWG), Stacking type, Receptacle (PCB Side Connector), SMT , 30 pin, 3000pcs. per reel |
| XSLS00-30-C | 0.25mm Pitch Connector for Micro Coaxial Calbe (#42 AWG / #44 AWG / #46 AWG), Stacking type, Receptacle (PCB Side Connector), SMT , 30 pin, 5000pcs. per reel |
| XSLS00-40-A | 0.25mm Pitch Connector for Micro Coaxial Calbe (#42 AWG / #44 AWG / #46 AWG), Stacking type, Receptacle (PCB Side Connector), SMT , 40 pin, 500pcs. per reel |
| XSLS00-40-B | 0.25mm Pitch Connector for Micro Coaxial Calbe (#42 AWG / #44 AWG / #46 AWG), Stacking type, Receptacle (PCB Side Connector), SMT , 40 pin, 3000pcs. per reel |
| XSLS00-40-C | 0.25mm Pitch Connector for Micro Coaxial Calbe (#42 AWG / #44 AWG / #46 AWG), Stacking type, Receptacle (PCB Side Connector), SMT , 40 pin, 5000pcs. per reel |
| XSLS00-52-B | 0.25mm Pitch Connector for Micro Coaxial Calbe (#42 AWG / #44 AWG / #46 AWG), Stacking type, Receptacle (PCB Side Connector), SMT , 52 pin, 3,000pcs. per reel |
| XSLS01-30-A | 0.25mm Pitch Connector for Micro Coaxial Calbe (#42 AWG / #44 AWG / #46 AWG), Stacking type, Receptacle (PCB Side Connector), SMT , 30 pin, 500pcs. per reel |
| XSLS01-30-B | 0.25mm Pitch Connector for Micro Coaxial Calbe (#42 AWG / #44 AWG / #46 AWG), Stacking type, Receptacle (PCB Side Connector), SMT , 30 pin, 3000pcs. per reel |
| XSLS01-30-C | 0.25mm Pitch Connector for Micro Coaxial Calbe (#42 AWG / #44 AWG / #46 AWG), Stacking type, Receptacle (PCB Side Connector), SMT , 30 pin, 5000pcs. per reel |