XSL Series
Micro Coaxial Cable Type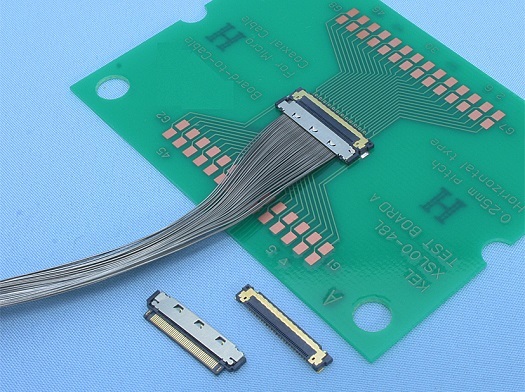 XSL series have a pitch of 0.25mm, the smallest in the industry, and are designed for #44 AWG and 46 AWG micro coaxial cables.
Highly reliable design with effective contact displacement of 0.51mm.
XSL series are designed to not reduce the superb da
Features
・Compact connector with a low profile of 1.0 mm(0.039") and a mating width of 6 mm(0.236").

・For micro coaxial cable(#44 AWG, #46 AWG).

・Signal terminals are soldered by Pulse Heat in one shot and keep a stable & highly reliable connection.

・Equipped with a metal shell, noise reduction and product strength are ensured.

・Multiple ground terminals are provided for enhanced transmission characteristics and EMS protection.

・Highly reliable design with effective contact displacement of 0.51mm(0.020").

 *Specially designed insertion jig, withdrawal jig, and caulking jig for a shell are also available.
Specifications
Material and plating
Insulator material
Glass-filled LCP (UL94V-0), Black
Contact material
Copper alloy
Contact plating
Gold over Nickel
shell material
Copper alloy
Shell plating
Gold over Nickel
Shell2 material
[XSL20 Shell2] Nickel silver

Electrical Characteristics
Current rating
0.25A per contact
Contact resistance
100mΩ max.
Dielectric withstanding voltage
90V AC for 1 minute
Insulation resistance
50MΩ min. at 100V DC
Operating temperature
-40°C to +85°C
Recommended cable
#44/46 AWG Micro coaxial cables
(Outermost diameter: max. 0.24 mm(0.009"))
Products List
| Part Number | Description |
| --- | --- |
| XSL00-48L-A | 0.25mm Pitch Connector for Micro Coaxial Calbe (#44 AWG / #46 AWG), Receptacle (PCB Side Connector), SMT Right Angle, 48 pin, 500pcs. per reel |
| XSL00-48L-B | 0.25mm Pitch Connector for Micro Coaxial Calbe (#44 AWG / #46 AWG), Receptacle (PCB Side Connector), SMT Right Angle, 48 pin, 1000pcs. per reel |
| XSL00-48L-C | 0.25mm Pitch Connector for Micro Coaxial Calbe (#44 AWG / #46 AWG), Receptacle (PCB Side Connector), SMT Right Angle, 48 pin, 3000pcs. per reel |
| XSL20-48S | 0.25mm Pitch Connector for Micro Coaxial Cable (#44 AWG / #46 AWG), Plug (Cable Side Connector), Straight, 48 pin |