8806/8807 Series
1.27mm Pitch Type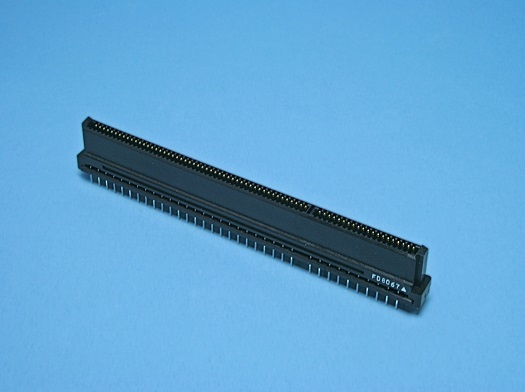 The 88 Series fully utilizes the concept of straight-beam construction with two lateral contact points and offers excellent positioning thanks to a three-sided protective molding; furthermore, as a standard in the field of half-pitch connectors, this series boasts a wide range of variations with proven track records.
The 8806 and 8807 connectors represent the multi-contact type connectors of the 8800 Series.
Specifically, connectors are available with contact numbers of 120 through 200, and in addition, support connection in three dimensions in the form of stacking, vertical mounting, and horizontal mounting.
Varieties either with or without flanges can be put to use in diverse situations.
Ribs are provided at a 100-contact interval in order to ensure high strength, and even with a half-pitch format, multi-contact connectors of a 200-contact configuration can be realized.
Features & Specifications
Features

・With a completely-independent two-point contact system, a stable contact pressure is maintained at all times.

・Low insertion force and withdrawal force.

・With a guide mechanism, smooth mating can be achieved.

・Wide variations in the number of contacts (120, 140, 160, 180 and 200 pins) are offered.

・Low insertion and withdrawal force, 134.4N and 64.7N 200 pin connector respectively.

* There are cases where it is possible for connectors of this series to correspond to the rated current beyond the indicated current capacity depending on the combination of the number of pins and the mating type. If you should have any questions, please consult with a KEL sales representative.

Specifications

Insulator material
Glass-filled Nylon 66 (UL 94V-0), Black
Contact material
Copper alloy
Contact plating
(Contact area) Gold over Nickel
(Terminal area) Tin copper over Nickel
Retention clip material
Copper alloy
Retention clip plating
Tin copper over Nickel
Current rating
0.5A per contact
Contact resistance
25mΩ max.
Directric withstanding voltage
650V AC for 1 minute
Insulation resistance
1,000MΩ min. at 500V DC
Operating temperature
-55℃ to +85℃
Products List
| Part Number | Description |
| --- | --- |
| 8806-120-170L-F | 1.27mm Pitch, 2 piece Connector, Receptacle, Multi-Pin type, With flanges, Right angle, 120 pin |
| 8806-120-170LD-F | 1.27mm Pitch, 2 piece Connector, Receptacle, Multi-Pin type (0.25μm min. Gold plating), With flanges, Right angle, 120 pin |
| 8806-120-170S-F | 1.27mm Pitch, 2 piece Connector, Receptacle, Multi-Pin type, With flanges, Straight, 120 pin |
| 8806-120-170SD-F | 1.27mm Pitch, 2 piece Connector, Receptacle, Multi-Pin type (0.25μm min. Gold plating), With flanges, Straight, 120 pin |
| 8806-140-170L-F | 1.27mm Pitch, 2 piece Connector, Receptacle, Multi-Pin type, With flanges, Right angle, 140 pin |
| 8806-140-170LD-F | 1.27mm Pitch, 2 piece Connector, Receptacle, Multi-Pin type (0.25μm min. Gold plating), With flanges, Right angle, 140 pin |
| 8806-140-170S-F | 1.27mm Pitch, 2 piece Connector, Receptacle, Multi-Pin type, With flanges, Straight, 140 pin |
| 8806-140-170SD-F | 1.27mm Pitch, 2 piece Connector, Receptacle, Multi-Pin type (0.25μm min. Gold plating), With flanges, Straight, 140 pin |
| 8806-160-170L-F | 1.27mm Pitch, 2 piece Connector, Receptacle, Multi-Pin type, With flanges, Right angle, 160 pin |
| 8806-160-170LD-F | 1.27mm Pitch, 2 piece Connector, Receptacle, Multi-Pin type (0.25μm min. Gold plating), With flanges, Right angle, 160 pin |