8800 Series
1.27mm Pitch Type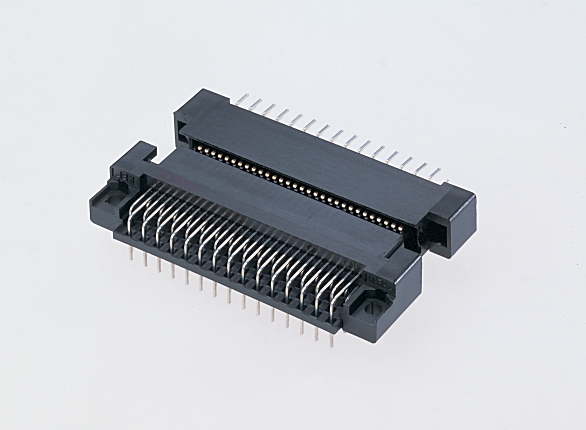 As part of KEL`s Hi-Packel family, the 8800 Series of half-pitch connectors, renowned for unswerving reliability and performance, fully utilizes a straight-beam construction with two lateral contact points.
In order to provide full support for a wide range of applications, this diverse series features a multitude of different variations.
KEL 8800 half-pitch connectors are the ideal choice for board-to-board, I/O, and everything in between.
Board-to-board variations support connection in three dimensions in the form of stacking, vertical mounting, and horizontal mounting.
What`s more, this series also features variations with or without flanges, with power terminals, and with other useful features.
Features & Specifications
Features

・With a completely-independent two-point contact system, a stable contact pressure is maintained at all times.

・Low insertion and withdrawal force.

・Plug and Receptacle contacts share common tooling which means increased productivity and greater product diversity.

・Contact cleans terminal every mating able.

・Insulator designed to prevent miss-insertion and protect the contacts from damage.

* 8800 Series may be able to handle current capacity exceeding the rated current depending on the combination of the number of pins and the mating type. If you have any questions, please contact a KEL sales representative.

Specifications

Insulator material
Glass-filled Nylon 66 (UL 94V-0), Black
Contact material
Copper alloy
Contact plating
(Contact area) Gold over Nickel
(Terminal area) Tin copper over Nickel
Current rating
Signal contact ; 0.5A per contact
Power contact (8803/8813 Series) ;2A per contact
Contact resistance
25mΩ max.
Directric withstanding voltage
650V AC for 1 minute
Insulation resistance
1,000MΩ min. at 500V DC
Insulation force (Typical example)
18.6N max./ 20 pin, 37.2N max./ 40 pin,
55.9N max./ 60 pin, 93.1N max./ 100 pin
Withdrawal force (Typical example)
2.9N min./ 20 pin, 7.8N min./ 40 pin,
11.8N min./ 60 pin, 19.6N min./ 100 pin
Operating temperature
-55℃ to +85℃
Products List
| Part Number | Description |
| --- | --- |
| 8800-020-170L-F | 1.27mm Pitch, 2 piece Connector, Receptacle, Right angle, With flanges, 20 pin |
| 8800-020-170LD-F | 1.27mm Pitch, 2 piece Connector, Receptacle, Right angle, With flanges (0.25μm min. Gold plating), 20 pin |
| 8800-020-170S-F | 1.27mm Pitch, 2 piece Connector, Receptacle, Straight, With flanges, 20 pin |
| 8800-020-170SD-F | 1.27mm Pitch, 2 piece Connector, Receptacle, Straight, With flanges (0.25μm min. Gold plating), 20 pin |
| 8800-026-170L-F | 1.27mm Pitch, 2 piece Connector, Receptacle, Right angle, With flanges, 26 pin |
| 8800-026-170LD-F | 1.27mm Pitch, 2 piece Connector, Receptacle, Right angle, With flanges (0.25μm min. Gold plating), 26 pin |
| 8800-026-170S-F | 1.27mm Pitch, 2 piece Connector, Receptacle, Straight, With flanges, 26 pin |
| 8800-026-170SD-F | 1.27mm Pitch, 2 piece Connector, Receptacle, Straight, With flanges (0.25μm min. Gold plating), 26 pin |
| 8800-030-170L-F | 1.27mm Pitch, 2 piece Connector, Receptacle, Right angle, With flanges, 30 pin |
| 8800-030-170LD-F | 1.27mm Pitch, 2 piece Connector, Receptacle, Right angle, With flanges (0.25μm min. Gold plating), 30 pin |