8900MS Series
1.27mm Pitch Type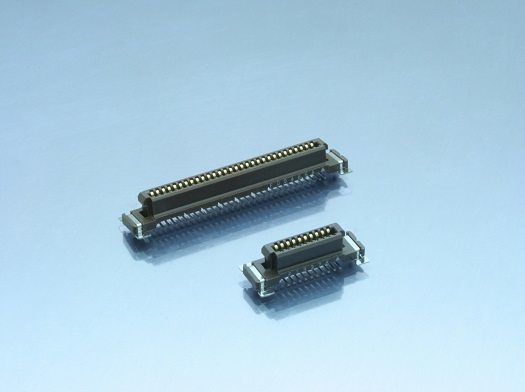 The 89 Series consists of half-pitch, low-profile connectors with a contact conept of securely-fit one-point contact.
It is the most low-profile out of the half-pitch connectors and is equipped with a guide mechanism, and SMT compatible.

This product is SMT compliant.
Fixing brackets attached to the left and right reduce the stress on the contact.
Stacking height of 7 mm and 8 mm are available and 8 variations for number of pins are available from 20 to 120.
* Products with 20 ~ 60 pins can also be handled by embossed packing. If you should have this request please consult with a KEL sales representative.
Features & Specifications
Features

・Highly reliable design ensuring contact force and secure fit.

・The low insertion and withdrawl force is achieved by dual-sided contact.

・Insulator protects the contacts from damage or breakage.

・PPS insulator resists infrared soldering temperature.

・SMT retention clips reduce the stress on SMT lead pins.

* There are cases where it is possible for connectors of this series to correspond to the rated current beyond the indicated current capacity depending on the combination of the number of pins and the mating type. If you should have any questions, please consult with a KEL sales representative.

Specifications

Insulator material
Glass-filled PPS (UL94V-0),Brown
Contact material
Copper alloy
Contact plating
[8909MS] (Contact area)Gold over Nickel
(Terminal area)Tin copper over Nickel
[8913MS] Gold over Nickel
Retention clip material
Copper alloy
Retention clip plating
Tin copper over Nickel
Current ratings
0.5A per contact
Contact resistance
40mΩ max.
Dielectric withstanding voltage
650V AC for 1 minute
Insulation resistance
1,000MΩ min. at 500V DC
Operating temperature
-55℃ to +85℃
Products List
| Part Number | Description |
| --- | --- |
| 8903-020-177MS-A-F | 1.27mm Pitch, 2 piece Connector (Low profile type), stacking height : 7, 9mm, SMT , Receptacle, 20 pin |
| 8903-020-177MS-B-F | 1.27mm Pitch, 2 piece Connector (Low profile type), stacking height : 8, 10mm, SMT , Receptacle, 20 pin |
| 8903-020-177MSD-A-F | 1.27mm Pitch, 2 piece Connector (Low profile type), stacking height : 7, 9mm, SMT , Receptacle (Au 0.25μm min. Semi-standard), 20 pin |
| 8903-020-177MSD-B-F | 1.27mm Pitch, 2 piece Connector (Low profile type), stacking height : 8, 10mm, SMT , Receptacle (Au 0.25μm min. Semi-standard), 20 pin |
| 8903-030-177MS-A-F | 1.27mm Pitch, 2 piece Connector (Low profile type), stacking height : 7, 9mm, SMT , Receptacle, 30 pin |
| 8903-030-177MS-B-F | 1.27mm Pitch, 2 piece Connector (Low profile type), stacking height : 8, 10mm, SMT , Receptacle, 30 pin |
| 8903-030-177MSD-A-F | 1.27mm Pitch, 2 piece Connector (Low profile type), stacking height : 7, 9mm, SMT , Receptacle (Au 0.25μm min. Semi-standard), 30 pin |
| 8903-030-177MSD-B-F | 1.27mm Pitch, 2 piece Connector (Low profile type), stacking height : 8, 10mm, SMT , Receptacle (Au 0.25μm min. Semi-standard), 30 pin |
| 8903-040-177MS-A-F | 1.27mm Pitch, 2 piece Connector (Low profile type), stacking height : 7, 9mm, SMT , Receptacle, 40 pin |
| 8903-040-177MS-B-F | 1.27mm Pitch, 2 piece Connector (Low profile type), stacking height : 8, 10mm, SMT , Receptacle, 40 pin |