DY Series
Floating Type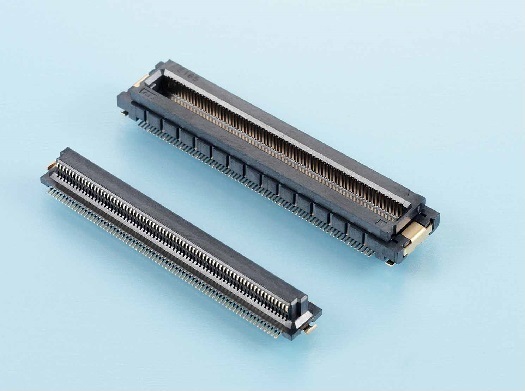 "DY Series" in spite of a narrow pitch of 0.5 mm, the amount of floating secured at ±0.5 mm in the X and Y directions. The small size and the large amount of floating contribute to the miniaturization of devices.
It has an effective mating length of 1.25 mm, assuring stable contact and workability.

Furthermore, it features options with or without positioning bosses and a secure absorption surface during automatic mounting.
A floating connector consists of two parts, a contact part (movable part) and a soldered part (fixed part), that are connected via contact.
When the contact part is moved, stress is usually applied to the soldered part. This stress is reduced by adopting a structure in which fixed metal fittings are attached to both ends of the insulator.
The contact shape is SMT compliant and the plating is lead-free compatible.

Another feature of the DY Series is the abundant variations. The number of pins available are 30, 40, 50, 60, 80, 100, 120, and 140, for each of which stacking height of 5, 6, 7, 8, 9, 10, 11, 12, 13, and 14 mm are available. There are combinations of stacked mating and vertical mating.
* Available number of pins, corresponding stacking height, etc., is due to change depending on the product type.
Features & Specifications
Features

・The amount of floating is ±0.5 mm in the X and Y directions.

・High reliability due to effective mating length of 1.25 mm (nominal value).

・A sufficiently large absorption surface that can support automatic mounting.

・Products with and without a positioning boss are offered.

・Eight variations are available, from 30 to 140 pins.
*Number of pins available is due to change depending on the product type.

・Both stacked mating and vertical mating are available.

・Ten variations of stacking height are available, from 5 mm to 14 mm.
* Note that the stack height available depends on the product type.

・The fixing bracket forms a large fillet, ensuring sufficient mechanical strength at the time of insertion and withdrawl.

・Option for plug side with dustproof caps are available.

Specifications

Insulator material
Glass-filled LCP (UL94V-0), Black
Contact material
Copper alloy
Contact plating
Gold over Nickel
Retention clip material
Copper alloy
Retention clip plating
Gold over Nickel
Current rating
0.4A per contact
0.3A per contact (DY1X-XXXL)
Contact resistance
80mΩ max.
100mΩ max. (DY1X-XXXL)
Dielectric withstanding voltage
200V AC for 1 minute
Insulation resistance
100MΩ min. at 250V DC
Operating Temperature
-40°C to +85°C
Products List
| Part Number | Description |
| --- | --- |
| DY00-030S | 0.5mm Pitch, Floating Connector, Receptacle (Floating side), Without posts, Straight, 30 pin |
| DY00-030S-A | 0.5mm Pitch, Floating Connector, Receptacle (Floating side), Without posts, Straight, 30 pin |
| DY00-030SB | 0.5mm Pitch, Floating Connector, Receptacle (Floating side), Without posts, Straight, Gold plating thickness of contact area: 0.1μm min., 30 pin |
| DY00-030SB-A | 0.5mm Pitch, Floating Connector, Receptacle (Floating side), Without posts, Straight, Gold plating thickness of contact area: 0.1μm min., 30 pin |
| DY00-040S | 0.5mm Pitch, Floating Connector, Receptacle (Floating side), Without posts, Straight, 40 pin |
| DY00-040S-A | 0.5mm Pitch, Floating Connector, Receptacle (Floating side), Without posts, Straight, 40 pin |
| DY00-040SB | 0.5mm Pitch, Floating Connector, Receptacle (Floating side), Without posts, Straight, Gold plating thickness of contact area: 0.1μm min., 40 pin |
| DY00-040SB-A | 0.5mm Pitch, Floating Connector, Receptacle (Floating side), Without posts, Straight, Gold plating thickness of contact area: 0.1μm min., 40 pin |
| DY00-050S | 0.5mm Pitch, Floating Connector, Receptacle (Floating side), Without posts, Straight, 50 pin |
| DY00-050S-A | 0.5mm Pitch, Floating Connector, Receptacle (Floating side), Without posts, Straight, 50 pin |