DT Series
Floating Type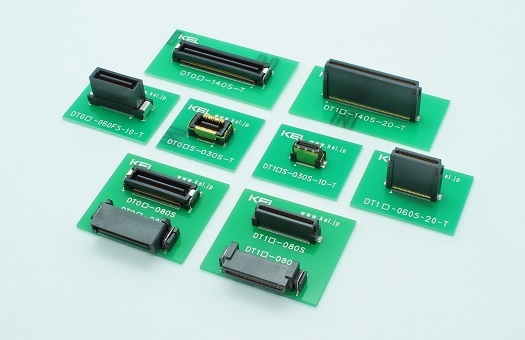 The DT Series complies with all SATA3.0 transmission characteristic requirements and achieves high-speed transmission. This series satisfies all requirements, including the differential impedance (100 ±15%); differential insertion loss (6dB); near end crosstalk (26dB loss); rise time (85psec.); skew (10psec.);and intersymbol interference (50psec.).
The DT Series has a 0.5mm pitch and yet it achieves a movable amount of ±0.5mm in the XY directions, same as the DY Series. It also assures an effective mating height of 1.5mm.
One of the biggest advantages of the DT Series connector is the three-dimensional mounting facility. No other manufacturers have floating connectors that can be mounted on boards that are connected horizontally or vertically, or stacked. Furthermore, the DT Series is available with a large number of contacts.
At present, KEL can mass produce the DT Series with up to 240 contacts.
Features & Specifications
Features

・0.5 mm pitch floating connector applicable to high-speed transmission.

・High-speed serial transmission in the SATA standard level is supported, satisfying all the transmission characteristics required by the SATA Rev 3.0.

Location error offsets ±0.5mm in the XY direction.

・High reliable design with effective contact displacement of 1.5mm.(0.059")

・Horizontal, Vertical and Stacked mating combinations.

・Wide variations in the number of contacts (30, 40, 60, 80, 100, 140, and 240 pins) are offered, meeting the needs for multi-pin count applications.
* 240 pin right-angle type is under development. More variations will be added sequentially.

・The arc-shaped contacts prevent foreign matters from being caught.

Specifications

Insulator material
Glass-filled LCP(UL94V-0), Black
Contact material
Copper alloy
Contact plating
Gold over Nickel
Retention clip material
Copper alloy
Retention clip plating
Tin over Nickel
Current rating
0.4A per contact (Limited pins depending
on the number of contacts)
Contact resistance
80mΩ max.
Dielectric withstanding voltage
200V AC for 1 minute
Insulation resistance
100MΩ min. at 250V DC
Operating temperature
-40°C to +105°C
Products List
| Part Number | Description |
| --- | --- |
| DT00-030L | High-speed transmission, 0.5mm Pitch, Floating Connector, Receptacle (Floating side), Without posts, Right angle, 30 pin |
| DT00-030S-T | High-speed transmission, 0.5mm Pitch, Floating Connector, Receptacle (Floating side), Without posts, Straight, 30 pin |
| DT00-040L | High-speed transmission, 0.5mm Pitch, Floating Connector, Receptacle (Floating side), Without posts, Right angle, 40 pin |
| DT00-040S-T | High-speed transmission, 0.5mm Pitch, Floating Connector, Receptacle (Floating side), Without posts, Straight, 40 pin |
| DT00-060L | High-speed transmission, 0.5mm Pitch, Floating Connector, Receptacle (Floating side), Without posts, Right angle, 60 pin |
| DT00-060S-T | High-speed transmission, 0.5mm Pitch, Floating Connector, Receptacle (Floating side), Without posts, Straight, 60 pin |
| DT00-080L | High-speed transmission, 0.5mm Pitch, Floating Connector, Receptacle (Floating side), Without posts, Right angle, 80 pin |
| DT00-080S-T | High-speed transmission, 0.5mm Pitch, Floating Connector, Receptacle (Floating side), Without posts, Straight, 80 pin |
| DT00-100L | High-speed transmission, 0.5mm Pitch, Floating Connector, Receptacle (Floating side), Without posts, Right angle, 100 pin |
| DT00-100S-T | High-speed transmission, 0.5mm Pitch, Floating Connector, Receptacle (Floating side), Without posts, Straight, 100 pin |