The next generation small waterproof connector by KEL

5.0 mm pitch waterproof connector

FW SERIES
<PRODUCT FEATURES>
1. Industry's smallest class external dimensions are realized as a 5.0 mm pitch waterproof connector.
 - The 5.0 mm pitch waterproof connector achieves the industry's smallest height (8.9 mm) and length (34.5 mm).
 - Designed the lock structure on the side for realization of low profile
 - Housing shape enabling fastening of binding band.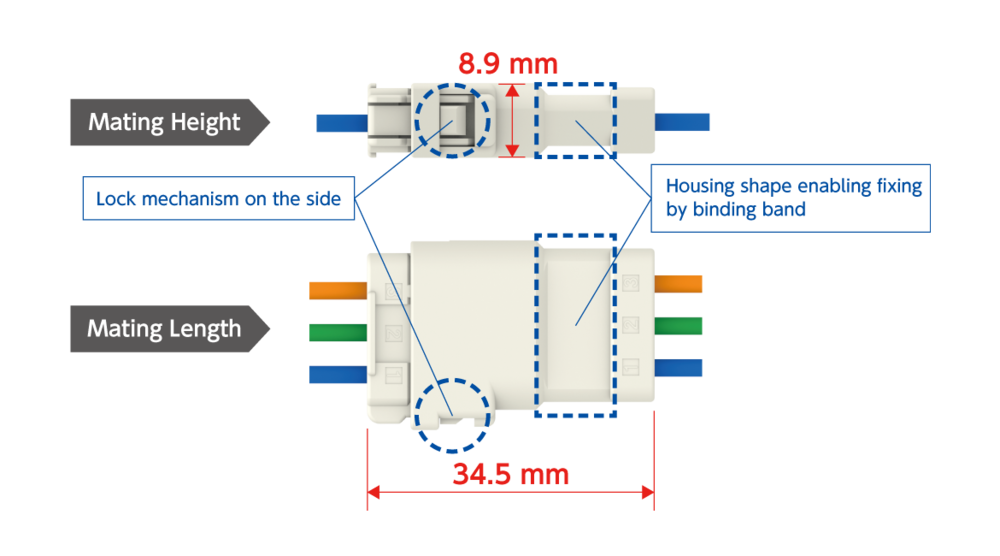 2. High reliability desingwith 3 points contact structure. KEL's original contacts on the plug side and the receptacle side have the same shape. (Patent pending)
 - Crimp contact adopts plug side and receptacle side same type contact of KEL original development and achives stable contact by 3 point contact by independent spring.
 - Highly reliable design with an effective mating length of 1.5 mm.

3. Connector structure realizing improvement in assembly workability
 - The crimp contacts on the plug side and the recectaple side have the same shape, so the crimp applicator can be used in common.
 - The cable seal and the seal ring are delieverd in the state of being attached to the housing.
 - By using KEL decicated dummy pins, it is possible to configure different contact numbers with same connector.

4. Robust lock structure with reliable click feel.
 - Robust locking mechanism has tactile click feeling.

5. FWP11 B TYPE branch relay type that enables reducing the number of wires is under development.

 
 - FWP11 B TYPE (Plug side connector) branch relay type can reduce the number of wires by mating with FWB01 (Receptacle side connector).